Unfolding Communications Inc
Hi and Welcome!
2017 has been an exciting year and to reflect those changes I'm in the process of rebranding and, soon, redoing this website.
Please let me know if you have any suggestions, comments and interesting desserts while this is happening.
The quickest way to product info is my search engine above, the online Idea Book below or call me at (877)286-3653.
Have a Great Day!

As "Seen" on The Nice Guys on Business podcast!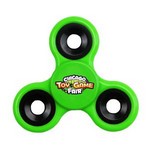 Safety Spin-It™
Larger imprint area on center cap. Outer weights appear to spin around center cap. EDC (Everyday Carry) product. Stress relief that fits in your pocket. Excellent for children and adults who need to k...
$1.85 - $2.93
What Our Customers Are Saying
Hi Glenn, I received the lapel pins this afternoon. They look good! I just got back from showing them to Melinda and Rohini, which they both thought they looked good as well. Rohini is pleased with...